In this current world of innovation, electric skateboards are the latest craze that is sweeping college campuses and metropolitan areas. These "last mile" vehicles are ideal for getting around your neighborhood, downtown or school without expending energy or breaking a sweat. 
While there are a lot of electric boards to choose from, the Onewheel has gained a lot of popularity due to its unique design which stands out from the competition. With a patented "one wheel" design, it harnesses a single large wheel in the center of the device with two footpads on either end. 
The benefit to such an innovative design is the Onewheel can be easily maneuvered using weight distribution (instead of a traditional hand remote). The large wheel can traverse all sorts of terrain including off-road all while offering the ability to carve like on a snowboard.
Many consumers have picked up a Onewheel to date, but the issue for a lot of prospective buyers is how expensive the devices are. The newest Onewheel Pint model is more affordable at $950, but the Onewheel XR their flagship sells for a whopping $1,799.
Where To Find Used Onewheels Online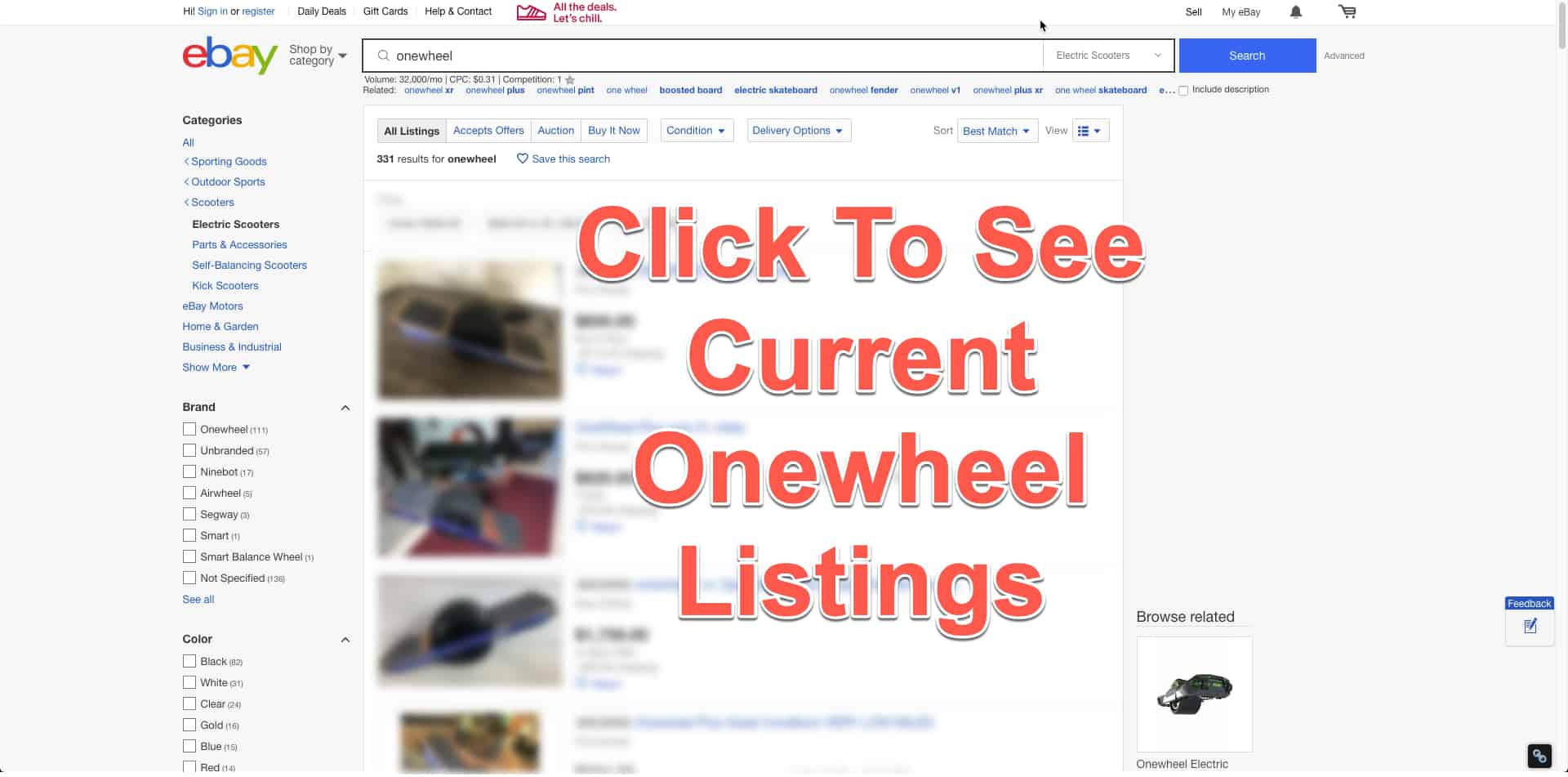 A household name that has been around since 1995, eBay is the largest online marketplace with an excellent reputation. People sell all sorts of items on eBay, including used Boosted Boards and Onewheels. Going through eBay means you'll get a more extensive assortment of people trying to sell their used Onewheel, but you'll have to deal with potentially expensive shipping costs.
A benefit about eBay is that you'll be dealing with a secure payment processor (most use Paypal) and have some recourse if the seller doesn't deliver as expected. As a buyer, there are no additional fees beyond the auction price/buy it now price (the seller pays these).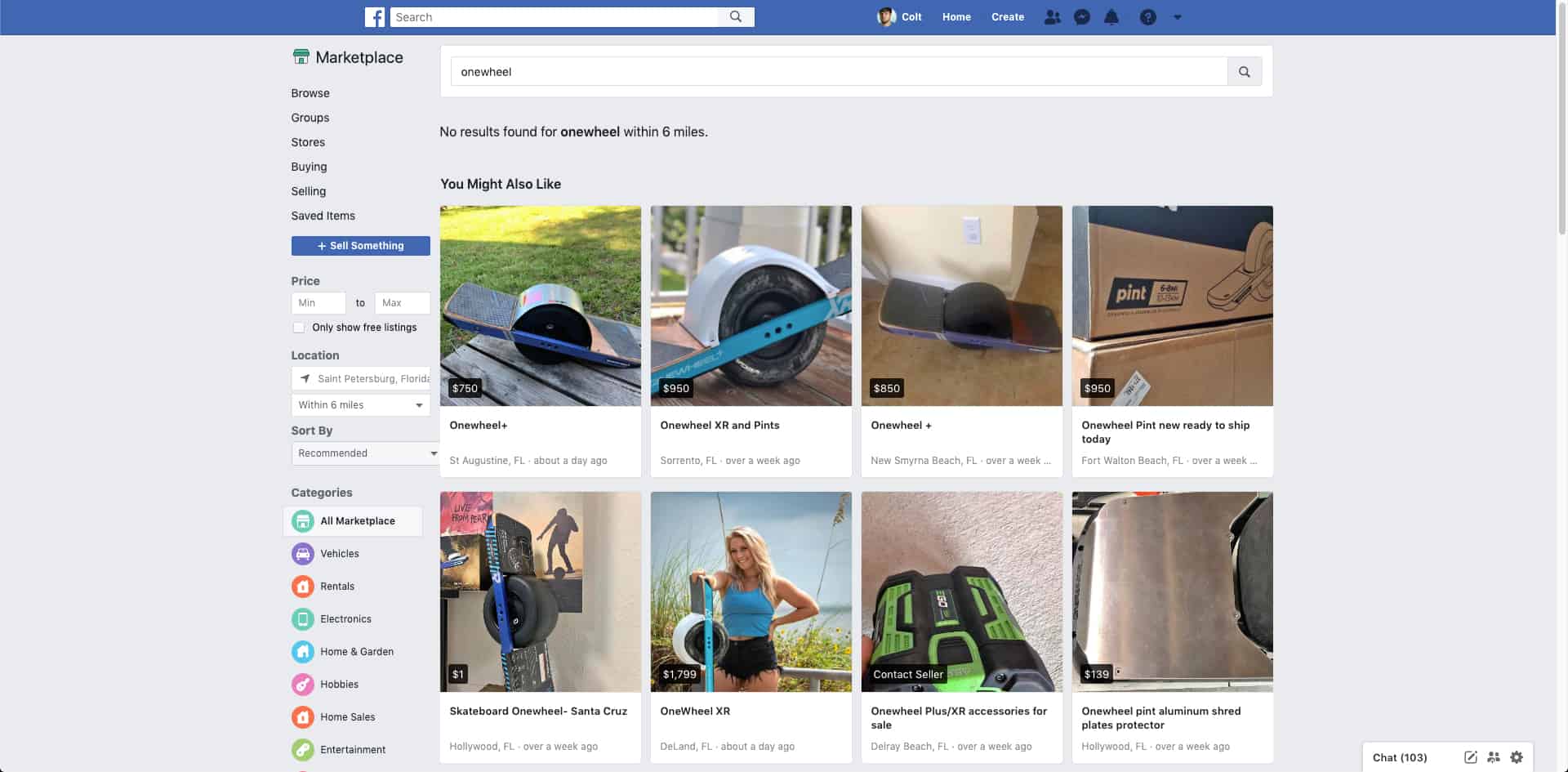 A newer way to buy and sell stuff locally is through Facebook's Marketplace, which is their version of classifieds through the social media giant. Since Facebook's user base is so large, you have a lot of people posting all sorts of products for sale. 
Similar to eBay this results in a wide assortment of used Onewheels. Depending on your location, you may be able to find someone close by with one who is willing to make a deal. You technically can pay through FB, but we'd recommend another safer method especially if its an in-person transaction.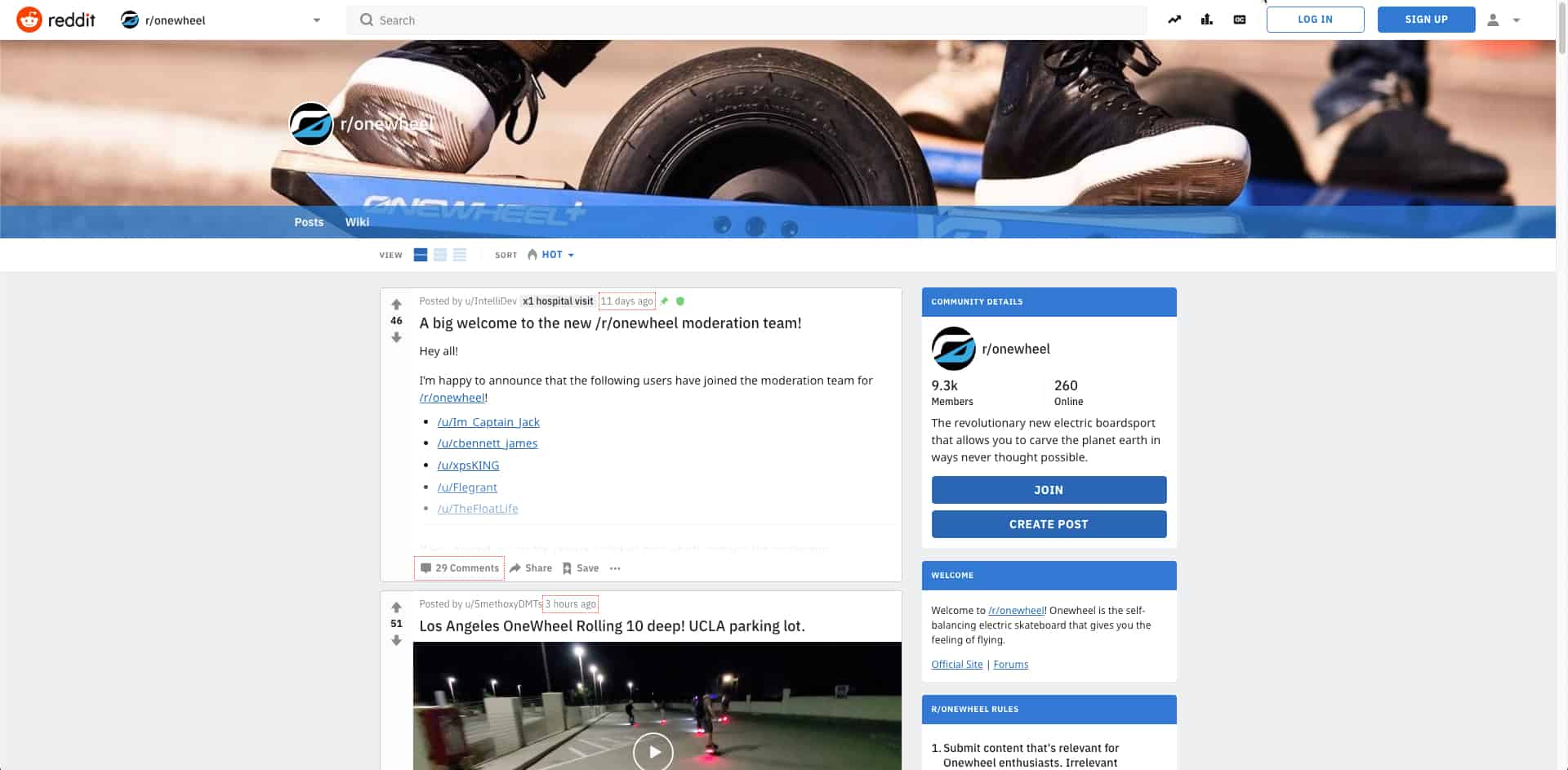 Reddit is one of the largest collective online communities for people to collaborate and discuss their hobbies, skillsets, or passions. The Onewheel has a subreddit that is pretty popular with over 9.3K users. While the general day to day discussion on the group isn't transactional, once in awhile a member will post a Onewheel that is available for sale to another Reddit user. 
The beauty of this community is they will often sell their used Onewheels to another Redditor at a lower discount than they'd sell on eBay or another classified/marketplace. There is no method of processing the transaction through Reddit so you'll need to resort to another safe payment method.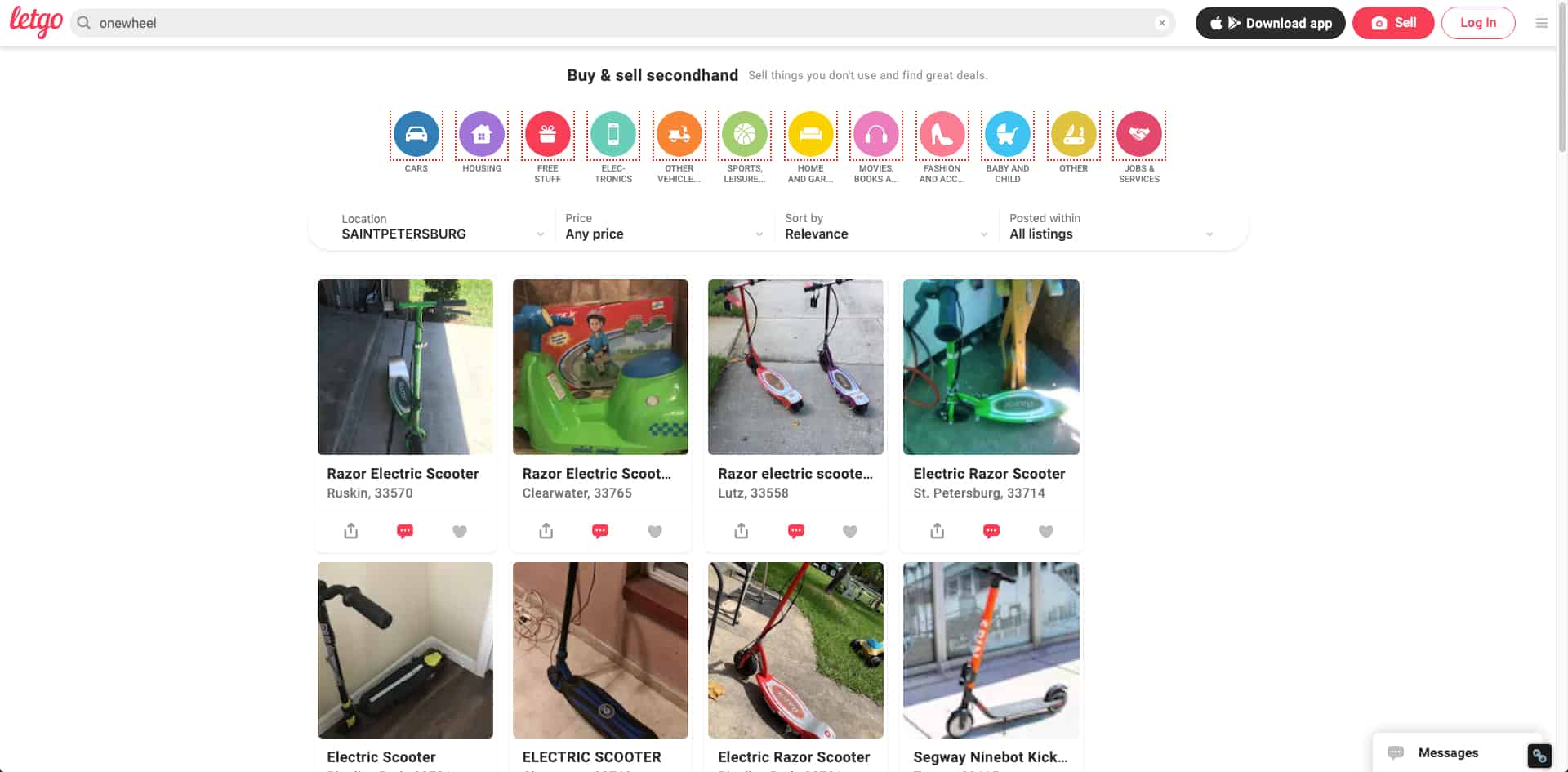 Modern smartphone apps like LetGo, OfferUp, or any other competing mobile classified marketplaces are another place to check. Depending on your location, you might not find any available for sale locally as these apps are relatively new, and the active users aren't as high. 
However, you only need to get lucky once It's worth checking before buying elsewhere as you might be able to score a deal on Onewheel that's used but in good condition. We don't have a ton of experience purchasing through these sorts of apps, so you'll have to use your judgment.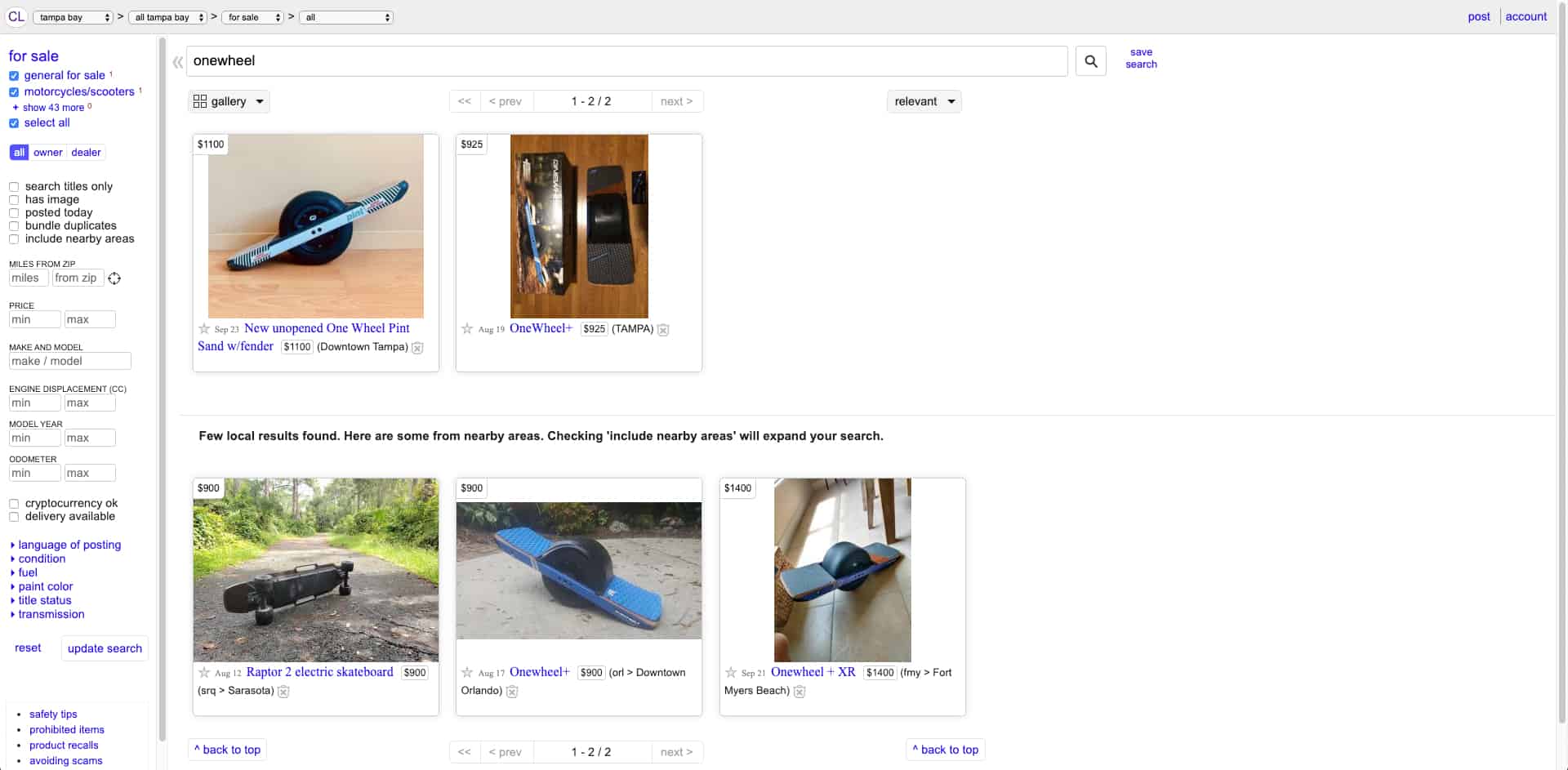 While it's more of an old school option in today's standards, Craigslist is still a viable option to consider. The interface is clunky, and it isn't the easiest way to communicate or vet the legitimacy of potential sellers, but you never know what you can find. Just be cautious when dealing with anonymous sellers on Craigslist and use safety precautions to protect yourself from being taken advantage of.
Craigslist is notoriously full of scammers, especially on the seller's side, so you are best off meeting someone locally in a public place to carry out the transaction in person. Never send a payment to someone on Craigslist before meeting them and examining the Onewheel for yourself.
Additional Things To Remember About Buying Used
While you can score a great deal by buying a pre-owned Onewheel, you still need to be cautious when dealing with an unofficial seller. Here are some things you should keep in mind:
Use good judgment when vetting a potential seller. Avoid someone who seems shady, is unresponsive or you feel like is telling you things that are too good to be true
Be sure to ask plenty of questions before purchasing and request detailed photos of their used Onewheel, explicitly highlighting any potential damage or issues.
Try to get the original Onewheel receipt from the owner as this will prove it is not stolen and will help you if you run into warranty issues later.
If purchasing outside of eBay, make sure you meet in person to carry out the transaction in a public place and have a test ride to ensure the Onewheel is in working condition
Always use the safest payment method you can, we like Paypal. There are other decent methods of payment (Apple Pay, Venmo, Check) should something go wrong with the transaction
Be sure to invest in a proper helmet to protect your head as Onewheels are dangerous devices that can cause harm should you fall or hit with another vehicle or pedestrian while riding