NameSilo is an affordable and reputable domain registry service.
Disclosure: This is NOT a sponsored review. All opinions and thoughts expressed within this review had no bias or outside influence. We may earn a commission on referred sales, but content integrity is our top priority.
We had switched to NameSilo back in 2012 and have been so satisfied with their service that our company currently holds 42 domains with this registrar.
Fast-forward seven years later, we have no intention of switching to another registrar as none compete against NameSilo's flat yearly pricing and competitive features.
When you consider advanced features like WHOIS privacy, domain protection and DNS management at no extra fee, Namesilo offers some serious value on the dollar.
Unlike many other competing registrars, there are no hidden fees, price hikes or surprises after the first year. The piece of mind of having your precious domains names with a reputable provider while maintaining the lowest yearly cost makes it a win-win for website owners.
NameSilo is a great domain registrar for small and large website owners alike. The lack of any hidden pricing schemes and quality service with no gimmicks makes it an ideal choice for anyone looking for a new domain name that falls within their supported TLDs and gTLDs. For those looking for international TLDs which NameSilo doesn't support many of, we would recommend that you use NameCheap for registering these domains.
Domain registration is a huge market as we shift our lives and businesses to the new world that revolves around the Internet.
While there are many registrars out there to choose from, many potential domain buyers tend to gravitate to the biggest players. These include NameCheap, GoDaddy or Domain(.)com who all spend hundreds of thousands of dollars on advertising each year.
Fortunately, there are lesser-known registrars out there who don't advertise as much yet still offer a quality service. These registrars matches or often surpasses the pricing and features of their larger competition.
Instead of spending their money on attracting new customers, they use these funds to focus on their existing customers. This often results in better support, new features and more competitive pricing.
A perfect example of this NameSilo, a company who has been in business since 2010. They have attracted millions of domain registrations with stellar pricing, competitive features and excellent customer service. In the rest of this article, we will provide an in-depth NameSilo review of our experience being a customer since 2012.
NameSilo Company Overview
Founded in 2010, NameSilo is a company that is focused on domain registration and DNS management. They only recently began offering minor web hosting options. According to the company's Facebook page, the company is based in Phoenix, Arizona and has annual revenues surpassing $2M.
In the last 9 years, NameSilo has become ICANN-accredited and surpassed 2M active domains registered with their service. This puts NameSilo in the top 20 with 3,000 ICANN-accredited registrars.
Back in 2014, NameSilo was the second domain registrar to offer Bitcoin as a method of payment for their services. This was long before the times of the crypto-rush like we are living in today.
They are not currently BBB accredited. However, BBB gives them a D- rating with only four positive reviews and seven negative reviews. Take this factor with a grain of salt. The majority of the negative reviews seem to relate to customer error which doesn't actually involve NameSilo.
Additionally, most happy customers do not take the time to leave positive reviews towards a product, company or service. It is far more common for those who feel wronged to be quick to write up a nasty review to get their "revenge."
One of the biggest draws to NameSilo for many potential customers is their affordable pricing structure. In our opinion, it is better than any other domain registrar.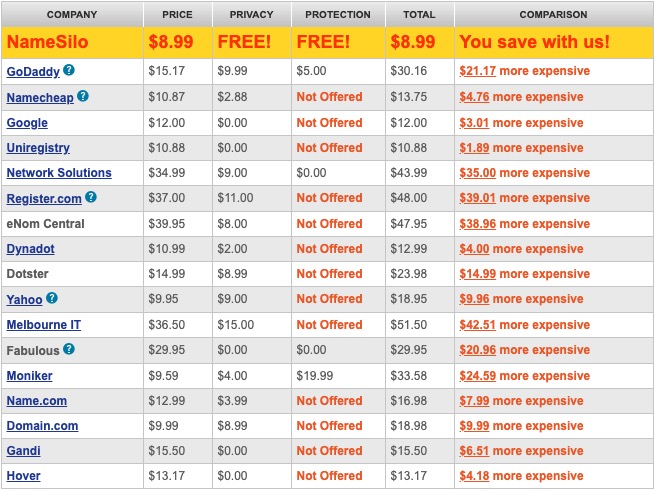 By reviewing the table above, you can see NameSilo is the cheapest option. The key to remember here is their pricing remains consistent, year-after-year. NameSilo doesn't believe in the hidden costs or pricing gimmicks of the competition.
In some cases, you can score a $0.99 domain coupon through someone like NameCheap or GoDaddy which seems like a deal. When you are paying $15+ per domain each year after, you'll lose money despite the initial promo.Transfer prices are similar with .COMs running you $8.39, .NETs costing $11.79 and .ORGs coming in at $10.79.
There are only two instances where pricing will change as a NameSilo customer. Both are situations where you'd save money versus spending more:
Periodic Promotions On New Domain Registrations (First Year Only)
NameSilo will sometimes run temporary promotions for new domain registrations on specific TLDs. The renewal rate will always be the standard pricing (only $8.99 for .COMs) and it is a nice little savings bonus if you happen to catch it at the right time.
NameSilo Discount Program
The company knows that many of their customers don't own just one or two domains, but sometimes even hundreds or thousands of domains. NameSilo has made it more enticing to attract bulk customers by offering a discount program.

Of course, there is a small catch. To use the bulk discount program, you must pay for the promotional pricing via NameSilo account funds. This means you "deposit" money into a virtual wallet that stores it for future use with NameSilo.
Since we have under 50 domains with NameSilo at the moment and would only save $0.10 per domain, we haven't bothered to join the discount program. Saving $4.20 per year in exchange for the hassle of maintaining the proper account funds (which requires you to prepay) isn't worth it for us.
A potential customer who wants to switch to NameSilo with 3,500 domains might have a different perspective. In this case, there is likely enough incentive to join this program and reap these savings.
Advanced Features & Domain Management
While the low pricing is a large upside to being a NameSilo customer, there is also a ton of feature-related benefits to hosting your domain(s) with them:
Free WHOIS privacy – most hosts charge an additional fee, keeps your personal information private (optional).
Email forwarding – free with every domain (up to 100 forward addresses).
Free domain parking – you can decide to show ads on a parked domain or put up a landing page to solicit offers (receive 100% of both).
Domain Defender protection – free service that offers additional protection for your account and domain(s) with 2-factor authentication and email/SMS notifications of changes to your account.
DNS management tools – add A, AAAA, CNAME, MX, TXT or SRV records right from their online account management portal.
Custom WHOIS records – access to a reseller manager with options for a generic site, reseller name, reseller email and customer WHOIS footer.
Domain forwarding – automatically forward visitors to one registered domain another domain (301, 302 and cloaked redirect options).
Portfolio management – group domains into sections for bulk actions (updating, configuration, transfers, etc.)
Registry lock – prevent fraudulent transfers by locking your domain down from bogus transfer requests.
Sub-account tools – safely allow other users to access your account such as a network administrator who needs to correctly configure your domain with a detailed log of all actions committed by these users.
User Interface, Functionality & Support
While it is hardly a big deal, the user interface isn't the sleekest for a web-based browser app yet it is well-organized and easy to use. Since we started using the NameSilo back in 2012, we haven't seen any major changes to the user interface. This makes us think they likely are following the "if it isn't broke, don't fix it" mantra.
Over the years, we have run into no complaints of performance or functionality. There has never been any registrar-related downtime for our sites which is an important aspect as a website owner. As for the 'Domain Defender' security feature, it is a great way for NameSilo to verify you are the correct owner of the domain and avoid fraudulent changes via hackers.
We have contacted support on a few occasions (mainly to discuss domain transfers). They have been helpful with adequate response times. Other reviews have stated they had trouble getting in touch with support, but they have always responded to our emails.
NameSilo Coupons & Promotions
Most of you have or will be investing a lot of money into domains, web hosting, themes, plugins or other website-related software. This all adds up and it can get expensive when you look at the bigger picture.
We have convinced NameSilo to give us a coupon code for our readers to help give back to our community. While it isn't a huge load of savings, using our code 'thetechreviewer' upon checkout via this link will save you $1 on one domain sale per account.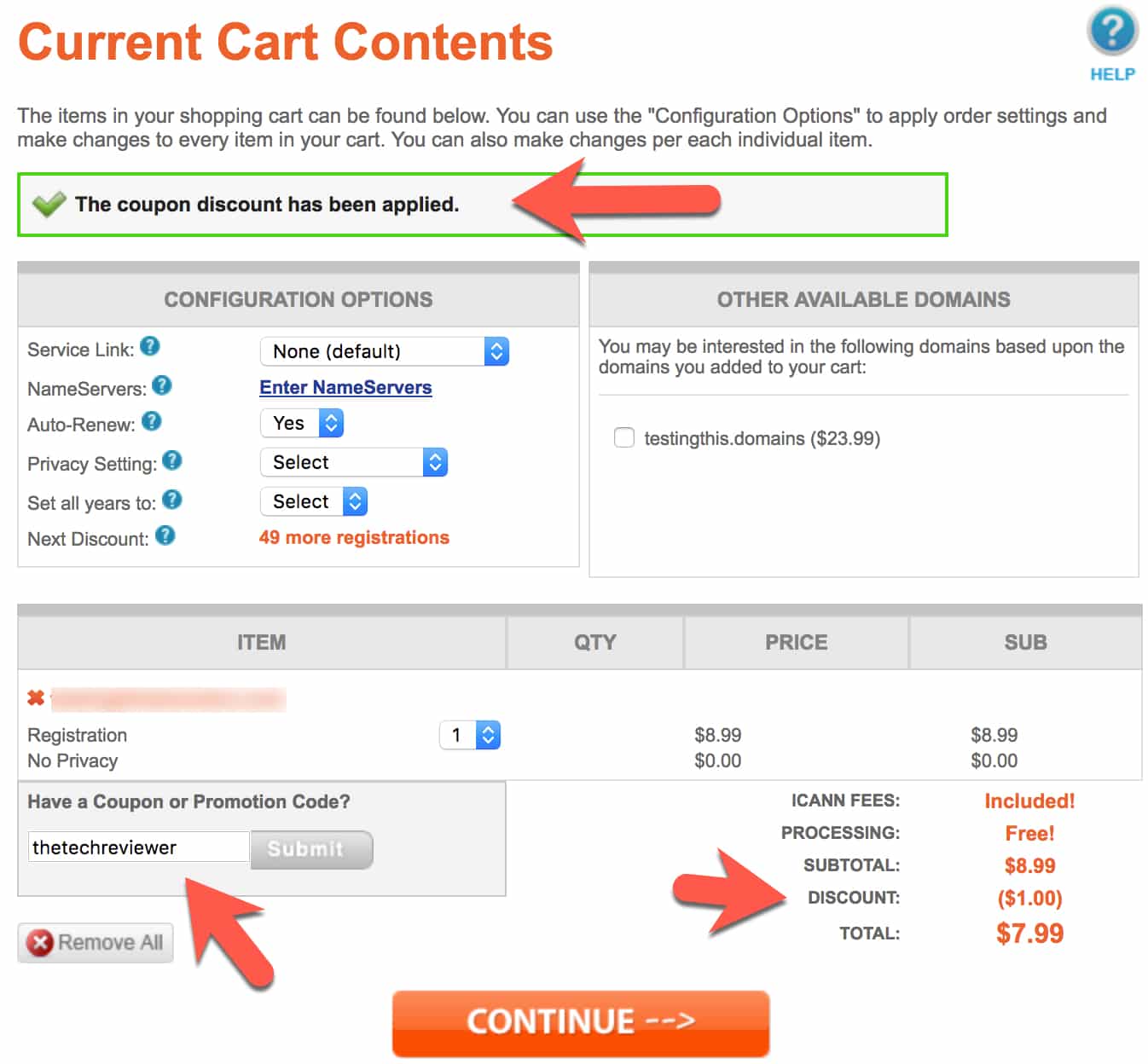 As a customer who has been registering domains with NameSilo over a seven year period, we can confirm that the registrar is the real deal. With an exceptional pricing and many free advanced features, this service is one to consider when looking to register a new domain or switch providers.
Thanks for reading our , we hope it was helpful!