If you own a WordPress blog, you probably have already experienced the wraith of the spam gods. Though not an intelligent strategy, people seem to think that using automated programs to spam other people's WordPress blogs with fake comments sporting links to their own website is a reasonable  and effective way of performing SEO. While being all around a bad idea on their part, it also becomes a huge annoyance to website owners who want to give a chance for people to comment on their posts and spark discussion.
While the easiest way to avoid this issue is to turn the commenting feature off completely, it isn't the most logical as you lose all functionality of the feature. Besides that, you have the option to turn on comments for only logged in users, but this is an issue as many people are turned away from commenting if they have to go through the process of creating an account. Lastly, people usually resort to a service like Askimet, which will automatically monitor your WordPress blog for spam comments and remove them. Though Askimet is free for personal blogs, it is not free for business websites and it also can be a pain to configure properly.
Now here is my simple solution that I have found to be extremely effective. Look for a plugin called 'Conditional CAPTCHA' which is available for free in through the WordPress repository. You will want to install and enable the plugin. Since the automated software that spams blog comments does not typically use CAPTCHA solving technology, you are now protected against the vast majority of future spam attacks. If you do happen to have an Askimet account already, Conditional CAPTCHA is able to work hand-in-hand with the service allowing it to only serve CAPTCHA requests to sources that Askimet flags as spam.
So with this plugin enabled, each time someone comments they will just need to enter in a simple answer to a question like you see below. What I like even more about this plugin is that you can customize the CAPTCHA page to fit your own theme and even customize the prompt that is shown to your users telling them to complete the CAPTCHA. The default is a blank white one as shown below:
The result is simple, yet effective and since we implemented and started using this plugin on this website (which was only two days ago) Conditional CAPTCHA has already caught over 614 spam comments as you can see in the screenshot below: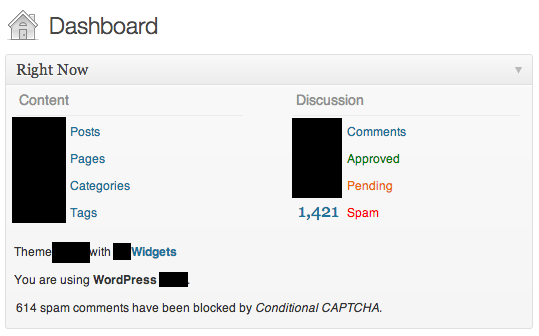 I hope you'll find this method to be as effective for your website as it is for us! Feel free to leave your experience using this method or any others in the comments below.
As a graduate of the University of Massachusetts and our Managing Editor, Colt loves testing out the newest tech products/services. His goal is to help better educate other consumers to ensure the most satisfying purchases decisions on consumer electronics and services. When he is not working on creating new content, Colt enjoys spending time with his two Australian Shepherds, Mia and Zoey.