As many of you know, Apple's highly anticipated iPhone 6 and 6 Plus models hit retailers this morning for the first time. Many camped out in hopes or snagging the limited stock of devices including a young man from Perth, Australia who was determined to be the first to own an iPhone 6 in his area.
The boy named Jack was successful in his quest to purchase the first iPhone, however something goes horribly wrong as he tries to show off the device to a reporting news anchor on live TV. The boy fumbles with the packaging and accidentally drops his brand new $600+ device on the ground in front of a crowd full of people and presumably the whole world (this video has gone wildly viral).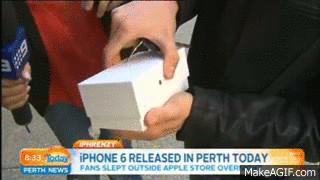 Of course, Jack is going to be just fine yet his iPhone 6 did not fair so well. According to the YouTube description on the video, "There are two cracks on the phone and a few scuff marks due to the drop." To make matter worse, Jack will have to deal with this broken screen for at least a few weeks as Apple's authorized service locations have not yet been brought up to date with the new repair training nor have they been provided with the necessary replacement parts.
So a word to the wise for anyone purchasing a new iPhone anytime soon, make sure you are extremely careful unboxing the device be sure to invest in a quality case to protect it from any future drops. We were able to get our hands on both the iPhone 6 and the iPhone 6 Plus today so I expect a full review of each device within the next 7-10 days. I'm currently using the 6 Plus as my "daily driver" and have been impressed with the device thus far.
Also, Stephen Colbert touched on Apple's iPhone 6 release on last night's Colbert Report monologue and it is worth a watch if you are looking for a laugh:
Source:
YouTube
As a graduate of the University of Massachusetts and our Managing Editor, Colt loves testing out the newest tech products/services. His goal is to help better educate other consumers to ensure the most satisfying purchases decisions on consumer electronics and services. When he is not working on creating new content, Colt enjoys spending time with his two Australian Shepherds, Mia and Zoey.