A common problem for a dog owner is keeping them entertained or exercised when you are away at work or simply not home for a long period. As an owner of two Australian Shepherds (a notoriously high energy breed), I have faced this dilemma myself and am always looking for solutions to aid in this problem.
Earlier this morning, I came across a Kickstarter for a product called the 'GoBone'. Unlike a traditional dog toy, the GoBone is smart-enabled with an electronic mechanism inside that allows the toy to travel around the room keeping your dog busy and can be adapted to your particular dog's age, weight, breed or play style for up to eight hours on a single charge.
If you are home and just want to have a fun experience with the GoBone and your pet, you can download their mobile app to manually take over the GoBone's controls much like an RC car and steer it about the room in the direction of your choice. There are also two interactive game modes: Fetch and Hide-and-Seek.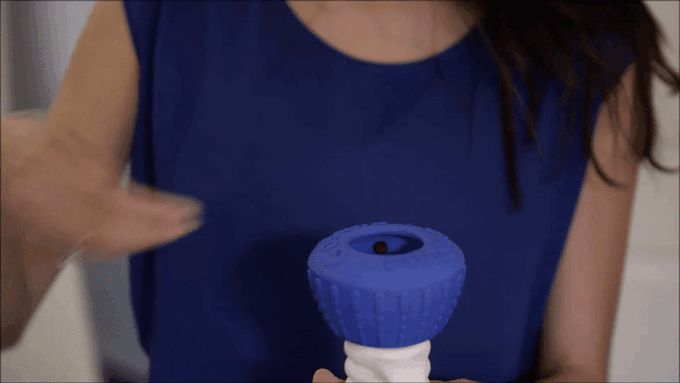 Something I found most interest is the modular design which allows consumers the ability to purchase replacement parts like the wheels and shell which means the primary investment (the internal motor and core) will remain usable for the extended future while you can just replace the external components if they get too grimy or chewed up.
The wheels double as storage space for adding food or treats which will disperse throughout the playtime to reward your dog. In the rear of the shell, there is a small accessory loop that can be used for attaching future GoBone accessories like a tail or rope to give your dog a little something extra to peak their interest.
Anyone interested in supporting the GoBone campaign can visit this link to pledge your funding. The Kickstarter is currently at $21,865 out of the $60,000 goal needed by July 1st. The first discounted GoBone backer deal has filled its 100 spots, but you can still pledge $149 to receive a GoBone at $80 off its future retail price. Expected shipment date for the initial production models of the GoBone are set for December of 2016.
Source: Kickstarter
As a graduate of the University of Massachusetts and our Managing Editor, Colt loves testing out the newest tech products/services. His goal is to help better educate other consumers to ensure the most satisfying purchases decisions on consumer electronics and services. When he is not working on creating new content, Colt enjoys spending time with his two Australian Shepherds, Mia and Zoey.