Today's deal of the day is brought to us by HostGator whom is offering $5 domains (.com/.net/.org/.biz/.info) and 44% off any new hosting plan including VPS and Dedicated Servers! The promotion is for national "talk like a pirate day" which seems a bit odd, but hey its beneficial to use consumers so I can't complain!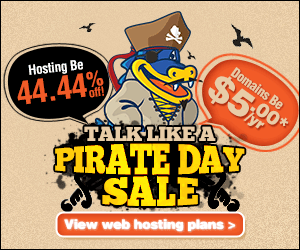 During this sale which ends tonight at 11:59PM, you'll be able to get the lowest prices on the following:
Domain names – $5/year
Hatchling shared hosting plan – $2.75/month
Baby shared hosting plan – $4.42/month
Business shared hosting plan – $7.20/month
Level 1 VPS hosting plan – $16.03 (first month only)
Basic dedicated server – $97 (first month only)
If you aren't aware, HostGator is one of the most trusted and reputable website hosting providers especially when it comes to shared web hosting so if you're in the market for a new hosting provider then act fast! This sale ends at midnight tonight and you won't be able to get it this cheap again for a long time!
As a graduate of the University of Massachusetts and our Managing Editor, Colt loves testing out the newest tech products/services. His goal is to help better educate other consumers to ensure the most satisfying purchases decisions on consumer electronics and services. When he is not working on creating new content, Colt enjoys spending time with his two Australian Shepherds, Mia and Zoey.